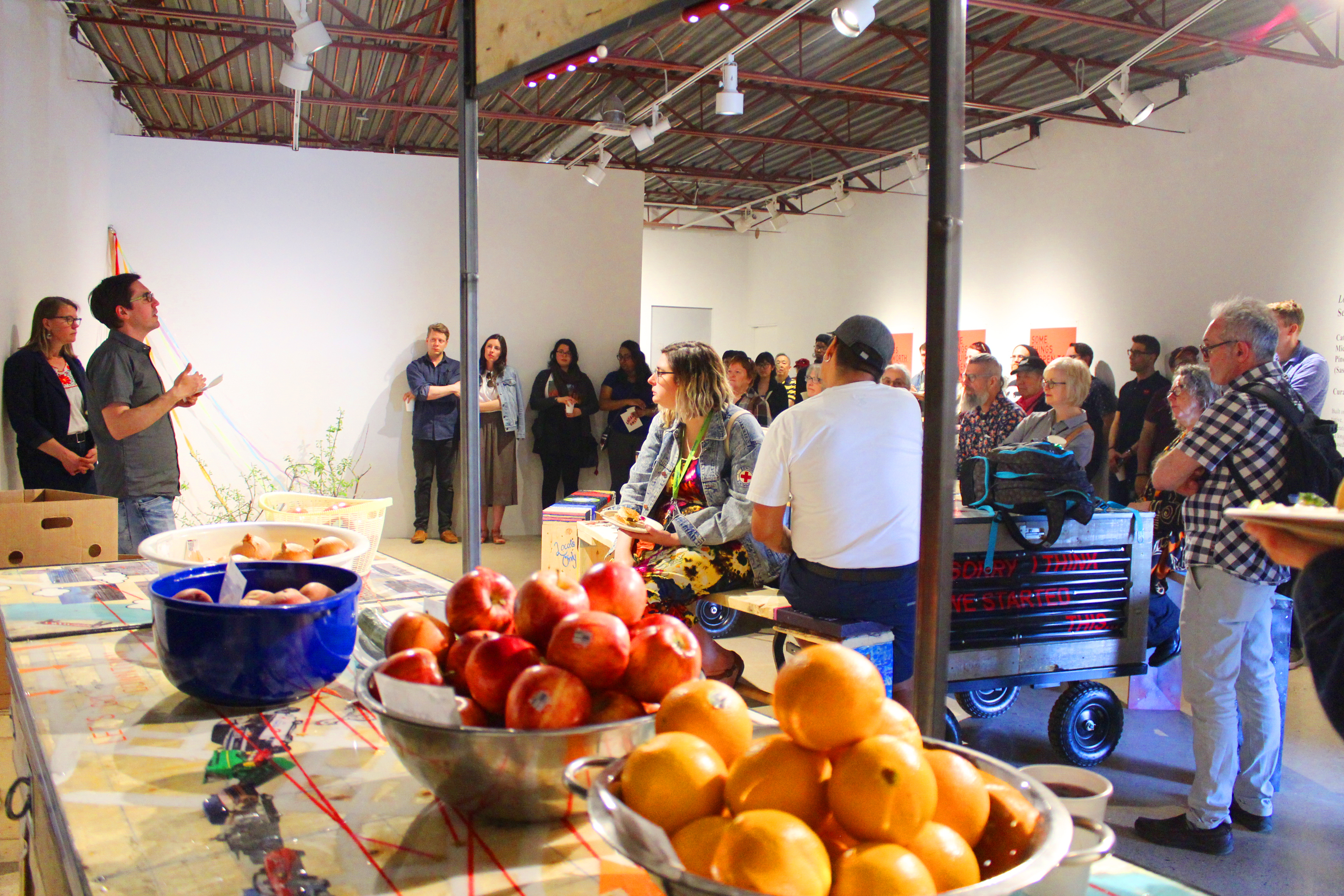 At the invitation of AKA Artist-Run, I created and developed Locals Only, which ran from 2017-19 and was supported by the Canada Council for the Arts' New Chapter initiative. Locals Only was a large-scale multi-year art project that explores food security, community led resource development, and intergenerational exchange in the core Saskatoon neighbourhood of Riversdale. As one of the oldest neighbourhoods in the city, Riversdale hosts some of the most diverse and culturally rich communities in the region, and yet is simultaneously facing unprecedented pressures from encroaching gentrification along with long-standing issues related to accessing locally-sourced sustenance. In response, Locals Only took the form of a mobile food service that deploys socially engaged art, local knowledge, and long-form hospitality to cultivate a community-based exploration of reciprocity by redeploying symbolic representations of gentrification into the hands of longtime community residents.
Through a collaborative partnership with AKA Artist-Run and CHEP Good Food Inc., a 25-year old Riversdale-based organization with significant expertise in food-based community development through working with children, families and communities to improve access to good food and promoting food security, Locals Only will operate as an elder-guided, artist-designed, and youth-operated mobile programming space in the shape of a food service truck.
Locals Only will also serve as a platform for intercultural dialogue and intergenerational capacity building by sharing traditional knowledge around food, hospitality, and community development from long-time Riversdale residents of Indigenous, Chinese, Ukrainian, Russian, and Francophone backgrounds. Importantly, this prioritisation of local history acts as a key instigator for intentional, yet immaterial, outcomes that result from the project in the form of empowerment, authorship, and securing visibility and verbal and visual space for marginalized residents.
Locals Only is one of 200 exceptional projects funded through the Canada Council for the Arts' New Chapter initiative. With this $35 million initiative, the Council supports the creation and sharing of the arts in communities across Canada. Locals Only was developed with preliminary research funding from the Saskatchewan Arts Board Artists in Communities grant. Thank you to Saskatoon residents, small businesses, artists and academics who generously gave of their time and knowledge in the first research stage of Locals Only. Locals Only is curated by Tarin Dehod, organized with Yvonne Hanson.