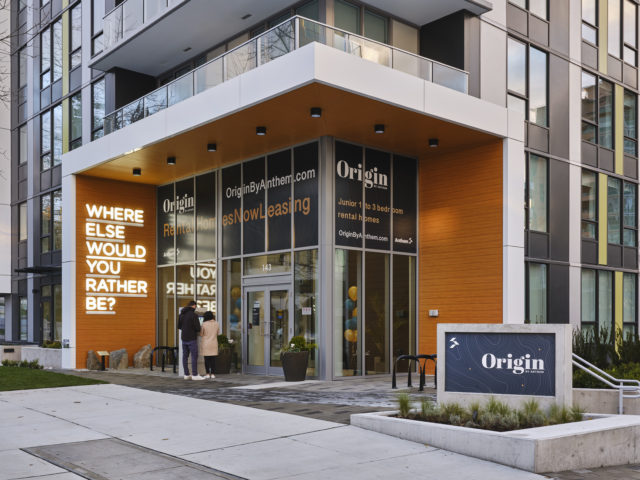 Rachel Topman Photography
Where Else Would You Rather Be? explores the role of a question in public as both a marker of time and a site of common and collective inquiry.  Over the lifetime of the work, the presentation of a question in a public space allows an idea to be continually tested against time and by our actions and inactions. The project concept aims to distill the idea of a question into a singular phrase that can capture the rich complexities of a changing neighbourhood and a community that will continue to evolve over time. The question, posed at the entrance to a new rental building developed by Anthem will meet growing pedestrian foot traffic at the corner of Eastern Ave and 16th Street for years. 
The artwork has a custom-programmed controller to allow the underline to continually shift from word to word over the course of the day. This creates the effect of different emphases (and arguably, different questions) for passersby.
The project also entangles itself with the process of development and the role of art in inviting new ways to see and imagine a sense of place. In its installed location, the text can act as a greeting welcoming residents home, or as a kind of personal check-in for passersby, or as an ambitious provocation for any member of the public, encouraging consideration of place, longing, and a sense of belonging.
Special thanks to Anthem Properties, Ballard Fine Art, TDH Experiential Fabricators, and the City & District of North Vancouver Public Art Programs.