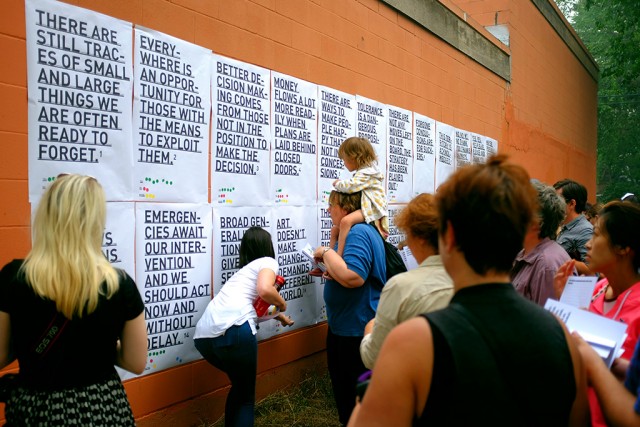 Originally shown as part of the 2015 Street Meet Festival in Saskatoon, Decisions, Decisions is a temporary and interactive text-based installation. The statements for Decisions, Decisions are based on exaggerations and distortions of familiar rhetoric from community consultations, urban development, campaign slogans, and protest placards. The text is ambiguous or unsettled, designed to encourage a plurality of understandings, highlighting the diversity of our own interests and affinities in a public space. However, each statement is also more complex than it might appear at first glance, aiming to offer a sense of instability or shifting priorities for the viewer. Drawing on this kind of language, the poster series also interjects other logics and potentials by encouraging participation based on either agreement, disagreement, or ambivalence, using small sticker dots normally found in asset mapping activities and based on added complications based on footnoted questions in a corresponding booklet. Decisions, Decisions aims to capture a sense of possibility and power in the language we use to describe ongoing, and yet subtle, political struggle.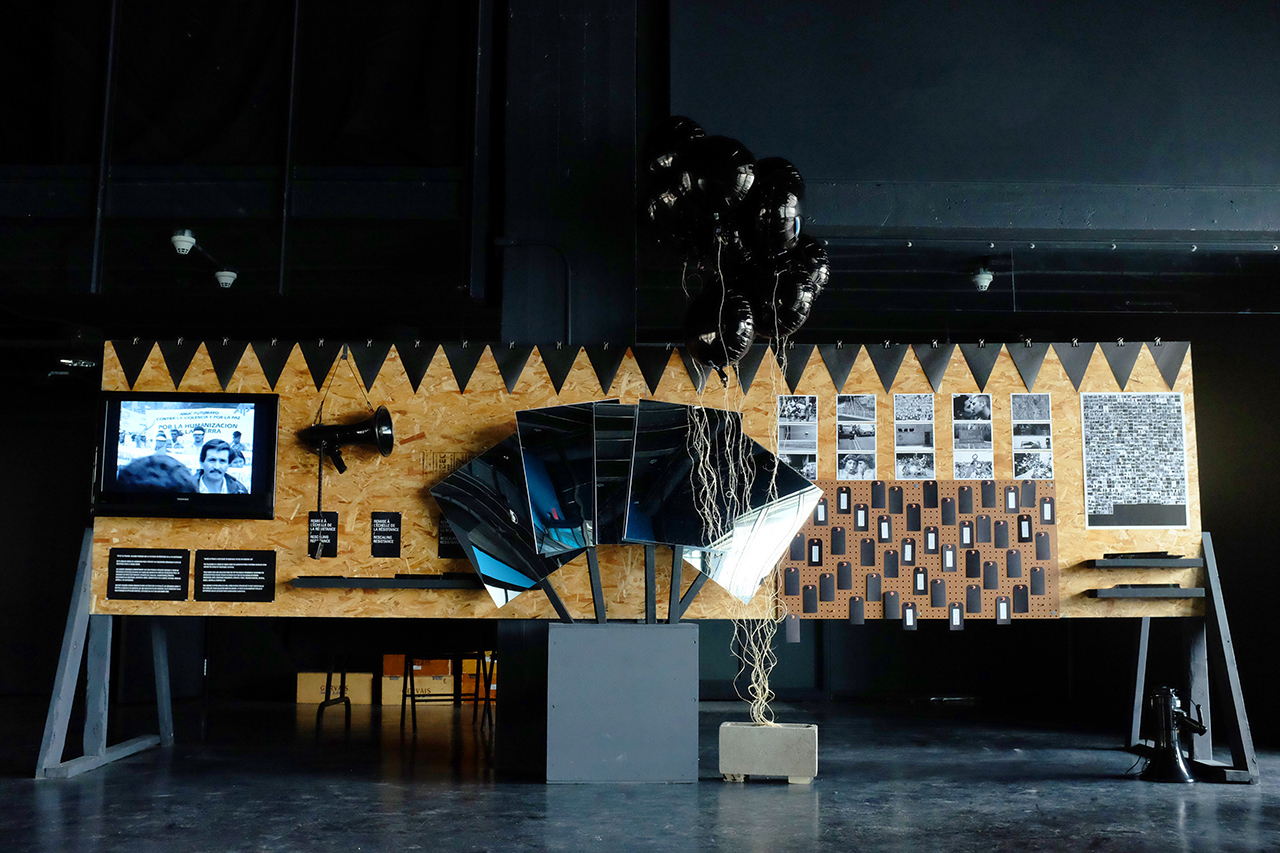 As part of Manif D'art 7 – Resistance: And Then, We Built New Forms / Résistance – Et puis, nous avons construit de nouvelles formes, curated by Vicky Chainey Gagnon, I created The Academy of Tactical Resistance, an installation and project space featuring a series of booklets, photographs, workshops, ephemera, videos, exercises, and demonstrations aimed at exploring and distributing the tactical capacity for small-scale resistance.
Through the heightening of everyday concerns to disruptive emergencies, ATR offers a toolkit aimed at carving out new forms of agency in our daily lives, working to enable everyday citizens to remount their own resistive practices in the places they live.
Crucially, ATR imagines itself as a pop-up education zone for the radicalization of everyday practices and adjustments. It forgoes the assumption that dramatic revolutionary change is imminent, and instead relies upon de Certeau's analysis of everyday tactics and Hardt's and Negri's discussion of affective labour to develop an academy that can support the resistance of the small, the porous, the invisible, and the routine.
ATR finds the emergency embedded in the banal and aims to mobilize the affects of the ordinary. It blends glimpses of violence, utopian practices, critical theory, and DIY aesthetics to offer viewers an opportunity to not only explore tactics of resistance, but also the prompts to construct their own responses to the everyday emergencies they encounter.
This project is generously supported by the Canada Council for the Arts.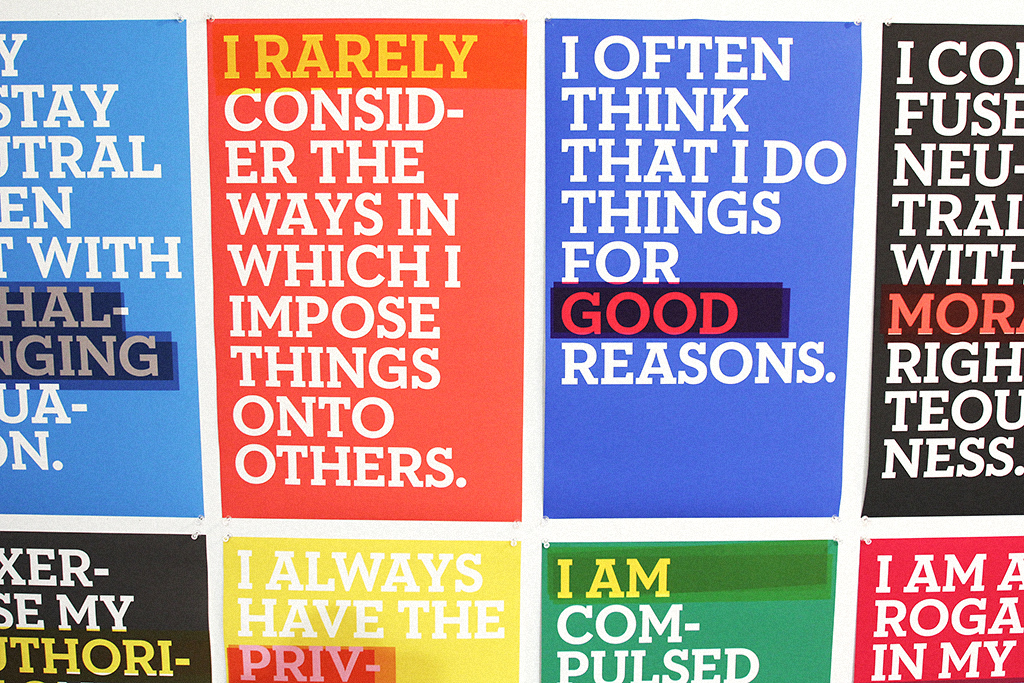 It's Complicated (2013), 15in x 22in, giclée prints
A series of paired posters exploring characterizations of our actions and their counterpoints. There are 18 in total so far.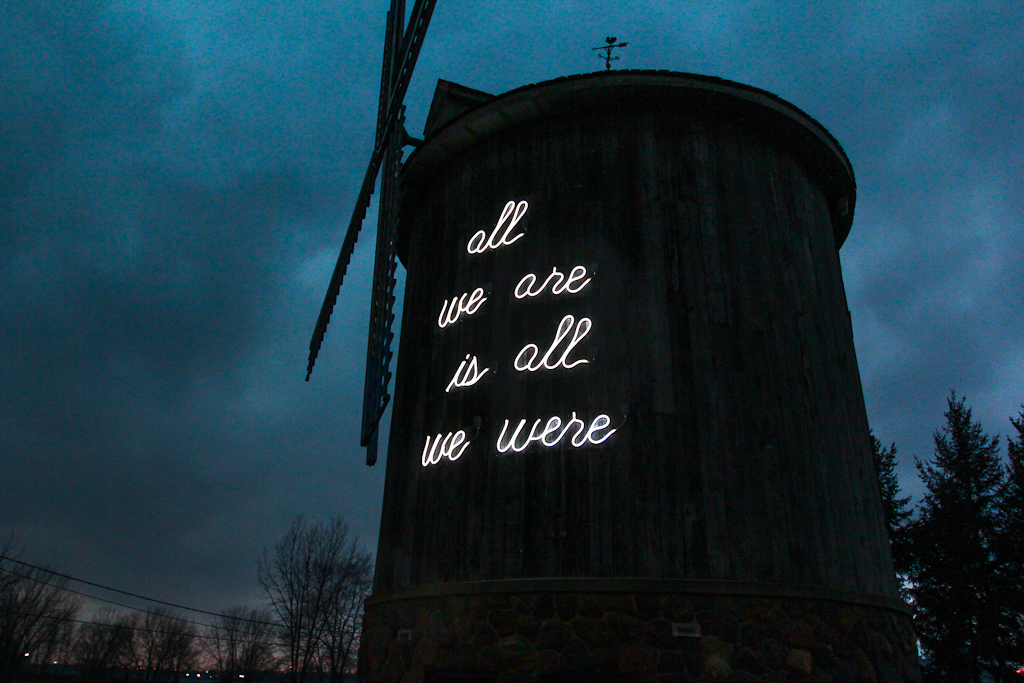 all we are is all we were (2013), hand-shaped LED neon light
A new public art work located on the Sandwich Windmill at Mill Park in Windsor, Ontario, commissioned by the City of Windsor and Windsor Community Foundation 1812 Legacy Project.
This work was also made possible with the assistance of Danielle Sabelli and Hiba Abdallah. Special thanks to Cathy Masterson, Heidi Baillargeon, and Tucker Electric.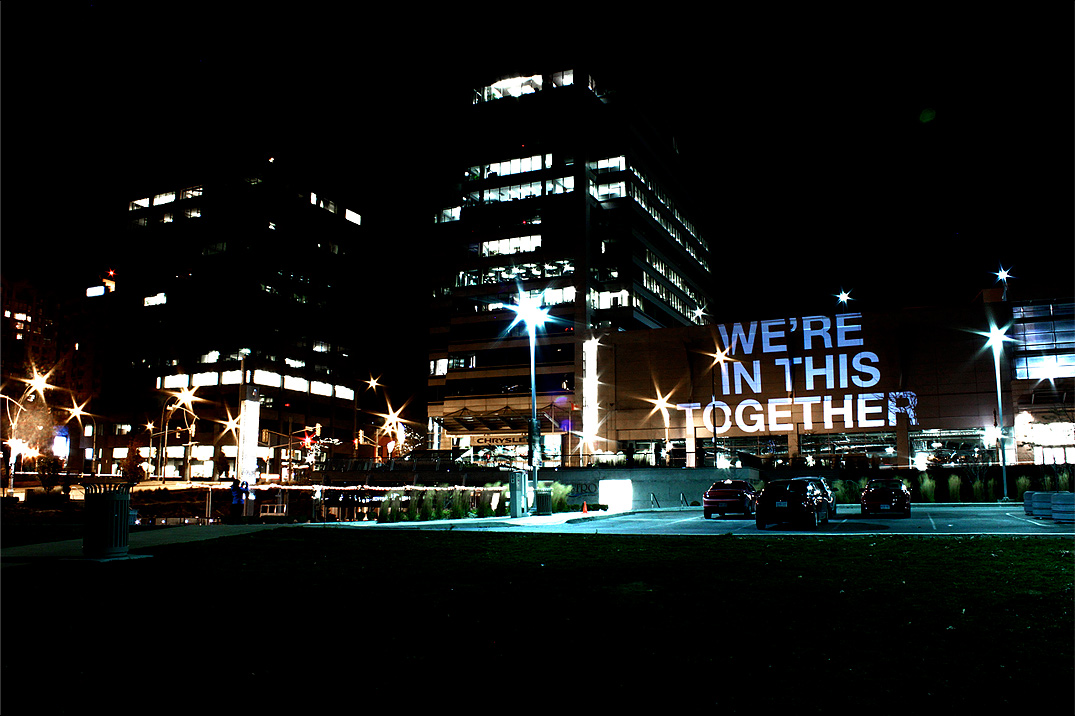 Broken City Lab is an artist-led interdisciplinary collective and non-profit organization working to explore and unfold curiosities around locality, infrastructures, education, and creative social practice leading towards civic change.
Our projects, events, workshops, installations, and interventions offer an injection of disruptive creativity into a situation, surface, place, or community. These projects aim to connect various disciplines through research and social practice, generating works and interventionist tactics that adjust, critique, annotate, and re-imagine the cities that we encounter.
Since 2008, we have worked as an ad-hoc collective.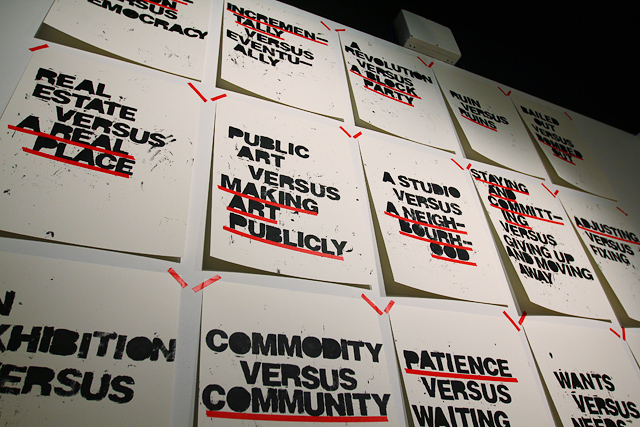 Helvetica Bold stencil, black acrylic paint, cold-pressed paper, red masking tape
A series of 25 hand-painted posters created to provide a starting place for complicating the ideas and concerns informing an art practice based on locality, infrastructures, and social practice. Underlines in red masking tape allow for a shift in emphasis should the occasion arise.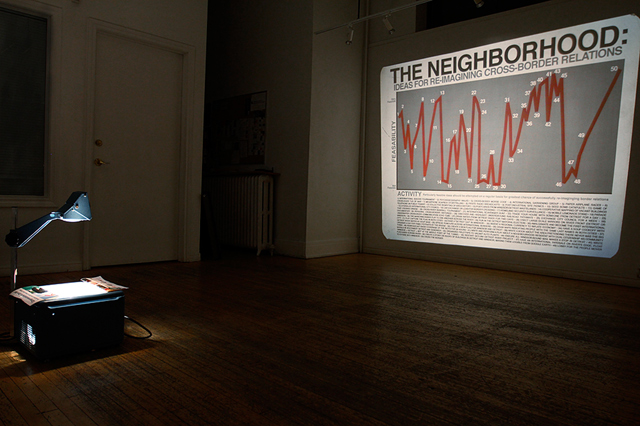 Overhead Projector, Single Sheet of Acetate
A list of outlining the feasibility of fifty activities that could occur between Windsor and Detroit residents to re-imagine cross-border relationships.
Custom Software / Live Generative Video
Live generative video for "Aurora", composed by Jordan Nobles and performed by the Windsor Symphony Orchestra for the Windsor Canadian Music Festival.
Running Time: 9:00 / Excerpt Above: 1:30 (click to watch)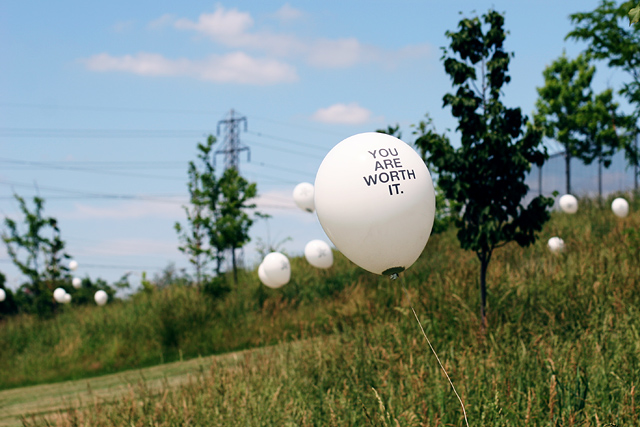 Custom-printed biodegradable balloons, wildflower seeds, helium, hemp
500 biodegradable balloons with printed message filled with helium and wildflower seeds.
HDV
Running Time: 13:00 / Excerpt Above: 1:30 (click to watch)
HDV
Running Time: 5:19 / Excerpt Above: 1:30 (click to watch)
HDV
Running Time: 5:20 / Excerpt Above: 1:30 (click to watch)
DV
Running Time: 6:00 / Excerpt Above: 1:30 (click to watch)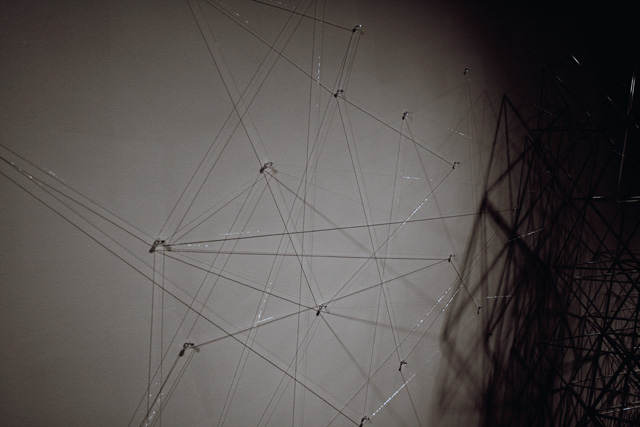 Monofilament Line, Push Pins
Project exploring social connections, space, and lines.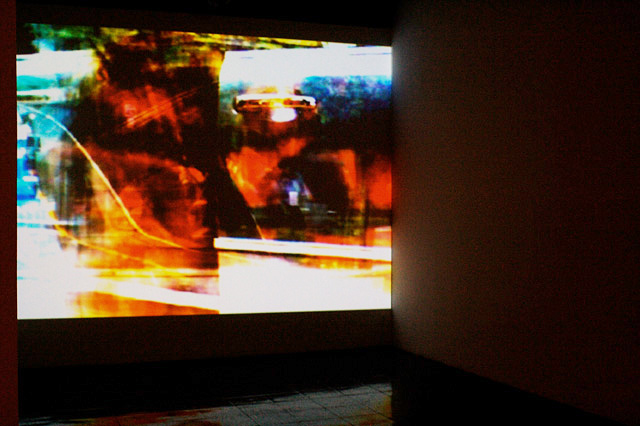 Custom Software / Projection
A visualization of the online discussion of economic and social realities surrounding the decline of the automotive manufacturing industry.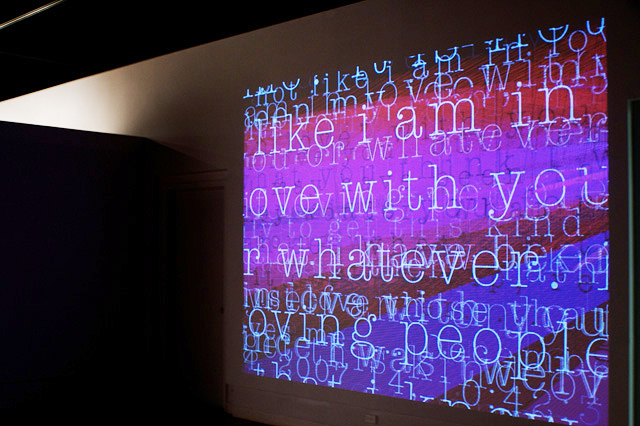 Custom Software / Projection
A real-time audio/visual response to the constant online activity of bloggers using the phrases "I am in love with you" and "I am not in love with you."